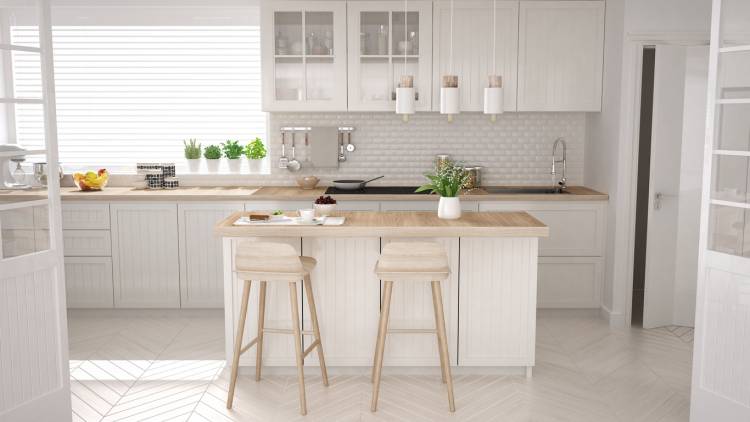 Enhance Your Kitchen Bright & Clear with Best Tiles
The kitchen is the only area where we can have multiple types of tiles in different areas to enhance the place more beautiful. When deciding on the best kitchen floor tiles consider the area they will be installed first. Remember, glossy tiles go well with wall and not flooring. Flooring tiles should be safe and smooth enough to walk on and glossy tiles on kitchen floor could go unsafe under feet. Therefore, it is very important to choose the right type of tiles.
Determine Which Portion You Want To Install the Tile
Before determining design or style for your kitchen project, choose the surface/area you want to install tiles on. You can place them behind the stove or on the wall over upper cabinets. Tiles are the most popular and highly acceptable countertop material and can be used on the floor also.
Learn the Key Difference between Tiles
As listed above, there are various types of tiles. So, before finalizing your choice, it is very important to learn the different types of them. Like for kitchen, you can use glass, quarry, stone, porcelain, cork, vinyl, bamboo, and ceramic. Out of these, vinyl, bamboo, and cork tiles are usually installed on floors, whereas quarry, porcelain, and ceramic are the best options for floors as well as counters. Glass tiles are in general used for walls and backsplashes.
Give a Thought to Which Tiles Can Endure Your Family Habits
When determining the Best kitchen floor tile make sure that it is durable enough to withstand pets, spilled food, traffic, chemical-based cleaning supplies, etc. Never choose wall tiles for flooring since they can be slippery for walking. Kitchen floor requires to have a slight raised pattern or texture that are not slippery. To give your place an elegant and refined look, prefer quarry tiles. They will be for sure expensive but will make your place look gorgeous if installed correctly.
Prefer Easy-to-Clean Tiles
Cleanliness is key. The place where you cook food and enjoy your meals should be very clean. Meet up with your local tile store talk to them about their wide selection of easy-to-clean tiles. Choose the right accessories that won't stain or crack easily. Clay and limestone are the best options for the same.
Choose Color and Design that matches your Cabinetry
A cabinet is the most important feature in the kitchen. Its design and color can help you pick out the right tile choice. Choose tiles depending on the color of your cabinet. You can either use the same color or go for a contrasting choice. Both will have a great impact if installed rightly.
Anything will go with your Backsplash
Glossy and printed tiles are the best options for kitchen backsplash since it doesn't get through heavy walks and steps. But, they do get greasy due to oil splatters and need daily cleaning. Ceramic, glass, porcelain, or stone material whichever you choose can bring an attractive and decorative flair to your kitchen area.
Maintain your Budget
Vinyl and linoleum tiles can be cost-effective, whereas the custom designed ceramic tiles can be very expensive. Tiles and Home decoration stores can help you figure out the right quality and quantity of product you will need for your kitchen. Meet some of the best stores and finalize one that suits your budget.
Summing up
Shopping the right tiles for your kitchen project doesn't need to be a tough task. In fact, in today's day and age, you can shop your required choice and number of tiles staying relaxed at your comfortable place. Just Google out the best "Kitchen tiles suppliers near me" and you will get a list full of information online. Filter out the list with best 3 to 4 companies and visit their website. View the type of services they offer, past customer reviews and testimonials, gallery, etc. Knowing the right shop to buy the best product will lessen down your stress. Consider the tips listed above and pick the right tiles for your kitchen and convert it into one you always dreamed of.
Click Here to Visit