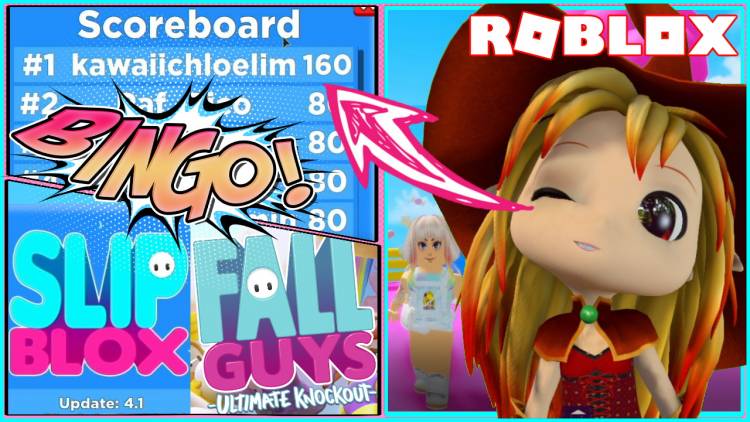 Roblox Slipblox Gamelog - August 29 2020
In this video, I played Roblox SlipBlox [Effects Update]! I played this new game that's inspired by Fall Guys Ultimate Knockout which is a 2020 platformer battle royale game developed by Mediatonic and published by Devolver Digital. It was announced at E3 in June 2019 and released on 4 August 2020 for Microsoft Windows and PlayStation 4. The game draws inspiration from game shows like Takeshi's Castle, It's a Knockout and Total Wipeout.
-- Use these time point to skip to the section in the video:
0:02:30 Lets get started - Round 1 - Jump Jump!
0:05:04 Round 2 - Honeycomb!
0:07:18 I did it! I won FIRST!
0:07:42 Next Round - Honeycomb again!
0:10:21 Fake Doors!
If you liked my video please LIKE, SHARE and SUBSCRIBE ??? !!!
-- Roblox SlipBlox [Effects Update] By iBugames
-- About SlipBlox
???? Effects Update ????
Win the minigames to get coins, open boxes to get trail effects.
SlipBlox is a new game inspired by Fall Guys.
Win the minigames to score points.
Points are calculated every 3 rounds.
The player with the most points wins!
Try to get in the leaderboard.
New minigames everyday!
The game is in development and we need your help!
In case of bugs, report in our groups and communities.
Enjoy!
Roblox SlipBlox Created 8/16/2020, Updated 8/28/2020, Max Players 20, Genre All. (Online Multiplayer Game, SlipBlox, Minigame, Fall Guys)
-- Yesterday Gamelog
- ROBLOX Find The Button V2! FINDING ALL THE BUTTONS - https://chloetuberchannel.blogspot.com/2020/08/roblox-find-button-v2-finding-all.html
Let me know in the comment what game you would like to see me play.
I Love you all Chloe Tubers!
Roblox SlipBlox Gameplay / Chloe Lim August 2020 Gamelog / #SlipBlox / #FallGuys / #Minigames
Click Here to Visit