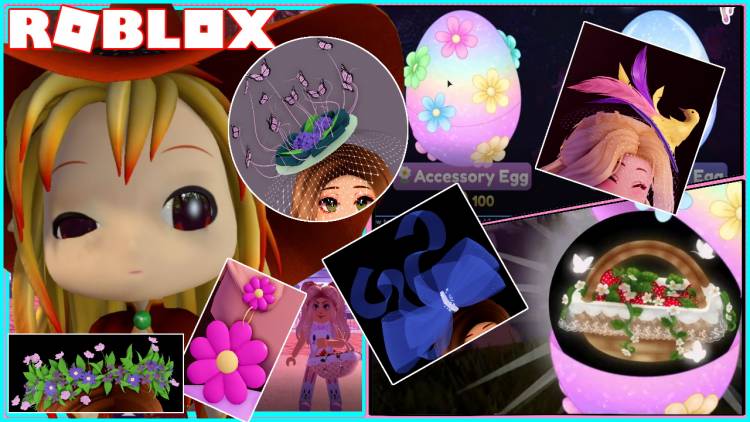 Roblox Royale High Gamelog - April 08 2021
In this video, I am playing Roblox Royale High! I will show you how to get golden eggs in the egg hunt minigame to buy either Accessory Eggs or Diamond Eggs in the Royale High Easter Egg Hunt This year 2021. There are all the older accessories (some reworked) and 6 NEW Easter Accessories: Butterfly Pavilion Fascinator, Daisy Earrings, Heiress Tea Party Bow, Springtide Flower Crown, Strawberry Picking Basket and Vegan Dove Fascinator.
Items are rewarded from the Sur-Prize shop's Accessory Eggs, which can be bought for 100 Golden Eggs, won from the Egg Hunt minigame. All previous Easter accessories, including those from Easter 2019 and Easter 2020, are available in the Accessory Eggs, along with new accessories. There is also a Diamond Egg for 100 Golden Eggs, which grants the user with a random amount of Diamonds.
Additionally, the Spring Halo 2021 was made available starting with the Easter 2021 event.
-- Use these time point to skip to the section in the video:
0:02:17 Once you join the game, you should see a teleport button at the top of the screen!
0:02:20 Click on the board to sign up for the Egg Hunt Minigame!
0:02:42 Showing you the Oof Head I got from Royale High's April Fools Obby Tower!
0:05:57 These are the 6 new accessories they added this Year 2021!
0:06:48 Lets start the Egg Hunt Minigame!
0:11:07 Using all my golden eggs for Accessory eggs, hoping to get the new 2021 accessories!
0:13:03 Finally got a 2021 accessory, the Strawberry Picking Basket!
If you liked my video please LIKE, SHARE and SUBSCRIBE ??? !!!
-- Roblox Royale High By callmehbob
-- About Royale High
????Violet and her little brother Bud are hosting an Egg Hunt! Ready to run fast and crack open Sur-Prize Eggs?????
Welcome to Royale High, your ever-growing dream world!
✧~♡~✧
♡Use your Teleportation Sceptre to fast-travel across magical lands, with secrets to explore & fun games to play!
♡Games earn you the valuable currency ????Diamonds, increases your level, & challenges your knowledge and skills!
♡Spend your diamonds in the shop, which sells special items during real-life seasons.
♡Dress your character to suit your mood & personality~ free makeup, hairstyles, & thousands of unique outfits for any occasion!
♡Level up at Royale High School by attending classes! The higher grades you receive, the more rewards you earn!
♡Make sure to bring the right book to class from your locker, and turn in your completed homework!
♡Try to balance your studies and socializing, as many best friends have been made within these halls♡
Roblox Royale High Created 4/10/2017, Updated 4/6/2021, Max Players 15, Genre Adventure. (Online Multiplayer Game, Roblox, Royale High, Easter Egg Hunt, Golden Eggs, Accessory Egg, Diamond Egg)
-- Yesterday Gamelog
- ROBLOX BANANA EATS! CODE! GETTING SURPRISE HATCHING BADGE and BABY BUNNY BEACON - https://chloetuberchannel.blogspot.com/2021/04/roblox-banana-eats-code-getting.html
Let me know in the comment what game you would like to see me play.
I Love you all Chloe Tubers!
Roblox Royale High Gameplay / Chloe Lim April 2021 Gamelog / #RoyaleHigh / #EggHunt / #AccessoryEgg
Click Here to Visit