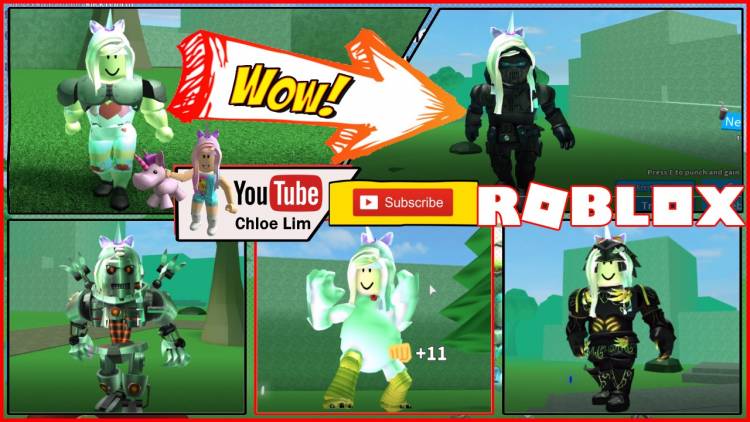 Roblox Robot Simulator Gamelog - 26 April 2018
CODE 1 : X10XPBOOST
CODE 2 : FREEXP
CODE 3 : r0b0t
-- Use these time point to skip to the section in the video:
0:03:59 Level up again!
0:05:20 Level up while fighting!
0:07:00 I level up again!
0:08:23 I level up and became a CHICKEN XD!
0:09:40 I level up again and the Chicken is gone!
0:11:08 Another level up!
0:14:24 Level up!
0:16:50 Another level up!
0:18:43 Level up again!
0:20:15 I level up and Yoshiro joined us!
0:33:22 My target to get 200 Crystals for my turquoise trail!
0:45:33 FINALLY 200 CRYSTALS!
--
Chloe Roblox Store
(GET IT NOW)
If you liked my video please LIKE, SHARE and SUBSCRIBE ??? !!!
--
Roblox Robot Simulator by Straight
--
About #Roblox Robot Simulator
???? Practice and battle to be the most powerful robot in the Robot in the world! Team up with your buddies and dominate all in this action packed game!
Roblox Robot Simulator Created 4/5/2018, Updated 4/25/2018, Max Players 15, Genre Fighting. (Online Multiplayer Game, #RobotSimulator)
--
Yesterday Gamelog
Roblox Zombie Attack Gameplay! - KILLING ZOMBIES WITH LOADS OF FRIENDS!
- https://chloetuberchannel.blogspot.com/2018/04/roblox-zombie-attack-gameplay-killing.html
Let me know in the comment what game you would like to see me play.
I Love you all Chloe Tubers!
Roblox Robot Simulator Gameplay / KawaiiChloeLim April 2018 Gamelog / Chloe Tuber Channel
Click Here to Visit