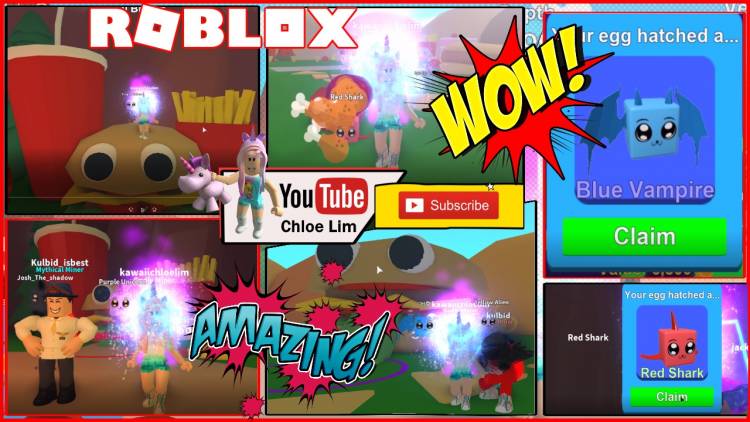 Roblox Mining Simulator Gamelog - May 19 2018
-- Use these time point to skip to the section in the video:
0:01:01 Entering the new FOOD LAND!
0:02:28 Lets get digging!
0:06:00 Buying the Turkey Blaster!
0:07:26 Gonna hatch one of my Legendary Eggs - I got a BLUE VAMPIRE PET!
0:09:32 Hatching Another Legendary Egg - I got a RED SHARK!
0:12:38 Kulbid_isbest hatched an Allien Pet!
--
Chloe Roblox Store
(GET IT NOW)
If you liked my video please LIKE, SHARE and SUBSCRIBE ??? !!!
--
Mining with Chloe Server
--
Roblox Mining Simulator by Runway Rumble
--
About #Mining Simulator
???? Food Land - Explore a band new land made of food! (2,500,000 Blocks Required)
???? New Backpack (Bread Pack)
???? New Pet (Bread Boi)
⛰️ 11 New Blocks/Ores
???? Coin Rain - Rains coins every collapse
???? 9 New Skin Textures
????️ 2 New Tools (Turkey Blaster, Banana Pickaxe)
???? 3 New Legendary Hats (Red Grind, Ice Crown, Interstellar Wings)
Roblox Mining Simulator Created 2/13/2018, Updated 5/18/2018, Max Players 10, Genre All. (Online Multiplayer Game, #MiningSimulator)
--
Yesterday Gamelog
Roblox Giant Survival 2 Gameplay! [EVENT!] GIANT SQUARE NOOB and event item Sabacc Playing Cards!
- https://chloetuberchannel.blogspot.com/2018/05/roblox-giant-survival-2-gameplay-event.html
Let me know in the comment what game you would like to see me play.
I Love you all Chloe Tubers!
Roblox Mining Simulator Gameplay / KawaiiChloeLim May 2018 Gamelog / Chloe Tuber Channel
Click Here to Visit