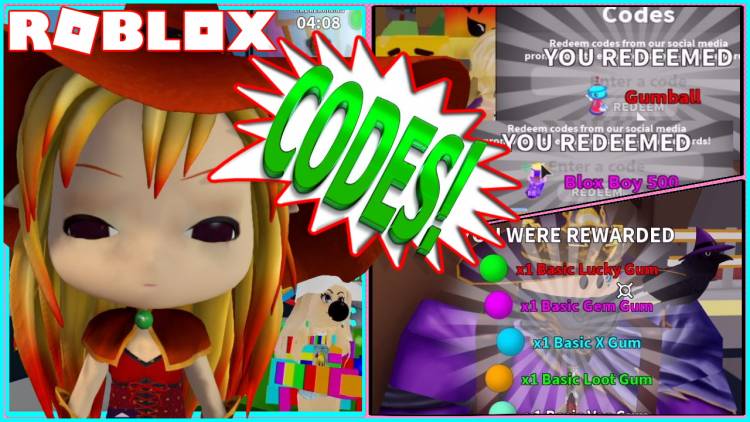 Roblox Ghost Simulator Gamelog - September 27 2020
In this video, I played Roblox Ghost Simulator! I have 3 NEW CODES to share for Legendary Blox Boy 500 Pet, Zoom Gum and a GODLY Gumball Pet! I also completed the NEW Ghost Hunter Hans Questline in Area 51, Got lots of gum including a LUCKY GUM WHICH WAS TOTALLY NOT LUCKY AND USELESS! Just watch the video for the codes and don't need to bother completing the new Questline!
The new UPDATE 65 Includes: GUM! Trade your ghost drops for unique and powerful gumballs! New NPC and questline in Area 51! New Questline!
-- Use these time point to skip to the section in the video:
0:01:34 Codes Time!
0:02:35 The new quest giver is in Area 51 and so is the gumball machine!
0:02:54 My second last quest is to convert items into gums at the gumball machine!
0:03:33 Last quest and Do NOT EAT THE BOSS GUM until the boss is almost dying!
0:05:46 OOF the boss has not been defeated and my Boss gum timer ran out!
0:07:08 Lets see what the final reward for this new Questline gives! WOW a Lucky Gum!
0:07:48 TAKING ANOTHER CLOSE LOOK AT THE LUCKY GUM DESCRIPTION! It clearly says: INCREASES YOUR CHANCES TO UNBOX LEGENDARY+ PETS FOR 2 Minutes! WHAT A LIAR! JUST KEEP WATCHING TO FIND OUT!
0:08:03 ATE my LUCKY GUM and lets go unboxing some pet crates!
0:08:20 I GOT COMMON and THIS IS NOT THE ONLY COMMON!
0:10:19 I GOT 99% OF COMMON PETS with the LUCKY GUM!!
If you liked my video please LIKE, SHARE and SUBSCRIBE ??? !!!
-- Roblox Ghost Simulator By BloxByte Games
-- About Ghost Simulator
???? UPDATE 65 ????
- GUM!
- Trade your ghost drops for unique and powerful gumballs!
- New NPC and questline in Area 51!
- New Questline!
- Check out the Limited store for special new items!
- Bug Fixes
Welcome to Ghost Simulator! Ghosts have taken over the world, and it's up to you to stop them!
???? Capture ghosts
???? Upgrade your equipment
???? Unlock Pets to help you along your journey
???? Defeat Bosses who threaten the safety of the world
???? Unlock Hoverboards
???? Explore the biomes
???? Complete quests to unveil the story and earn rewards
Roblox Ghost Simulator Created 12/27/2018, Updated 9/25/2020, Max Players 12, Genre All. (Online Multiplayer Game, Ghost Simulator, Ghost simulator codes, Pet Codes, Working codes)
-- Yesterday Gamelog
- ROBLOX SUPER GOLF! ALL WORKING CODES! I'M SO BAD AT GOLF - https://chloetuberchannel.blogspot.com/2020/09/roblox-super-golf-all-working-codes-im.html
Let me know in the comment what game you would like to see me play.
I Love you all Chloe Tubers!
Roblox Ghost Simulator Gameplay / Chloe Lim September 2020 Gamelog / #GhostSimulator / #Codes / #PetCodes
Click Here to Visit