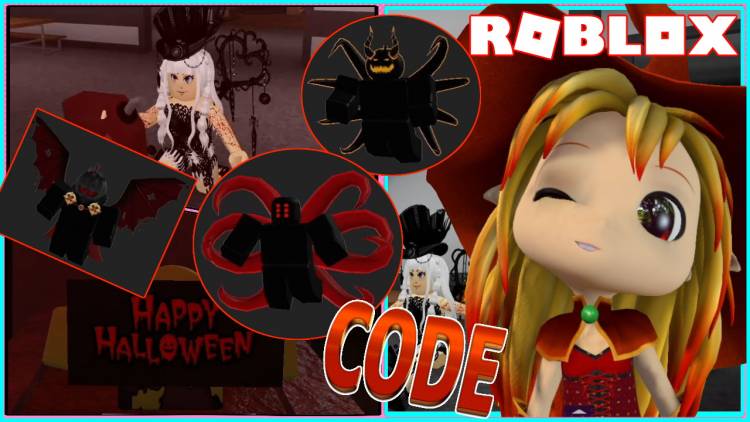 Roblox Ghost Gamelog - August 09 2020
In this video, I played Roblox Ghost [BETA], I have a New Code, Escaping the new chapter and checking out the new Halloween Event!
The Halloween Event in Ghost started on October 5th and will end on November 6! There are 3 Halloween themed Ghosts in this event: Spooker, Batking and Spyder! That can only be obtained during this event by using the Candies as currency to buy them! You can get these ghosts skins by collecting candies in chapters and using them in the ghost shop, you can only collect a max of 10 candies per round but if you have premium, you can collect up to 20 candies per round!
This is a game like Piggy or Granny but instead of Piggy or Granny, it's Ghost character in this game. There is currently four Chapters or maps in the game now! Chapter 1 - Hotel, Chapter 2 - Mansion, Chapter 3 - Basement, Chapter 4 - Hospital and the New Chapter 5 - School Map!
How to play - Same as most piggy or granny inspired games, you need to find keys or items around the map to unlock doors or fix items, most key and items are inside drawers that will only open up when you walk close to it, BUT the different thing in this game is not to ESCAPE, It is to turn on the furnace and burn cursed items that is linked to the ghost and you can kill or exorcise the ghost and win the game or round.
Only YOU can save us from The Ghost. Be the hero that everyone needs or be The Ghost that everyone fears. Inspired by Piggy!
-- Use these time point to skip to the section in the video:
0:01:49 About the Halloween Event!
0:02:28 Code Time! It's a ZERO in the code and not letter O!
0:03:01 Loaded into a round and it's the Basement Map - Chapter 3!
0:03:30 Just running around collecting candies and the other players exorcised the Ghost!
0:04:23 New Chapter 5 School map's Intro Cutscene!
0:05:26 Blue safe key for this big blue safe!
0:06:13 Oil is probably for this incinerator but we need a crowbar first!
0:08:40 Wow these players in the sever are pros! They broke the curse again! I didn't even do much!
If you liked my video please LIKE, SHARE and SUBSCRIBE ??? !!!
-- Roblox [HALLOWEEN EVENT] Ghost [BETA] By Spirit Studios.
-- About Ghost [BETA]
CHAPTER 5 IS OUT!
Only YOU can save us from The Ghost.
Be the hero that everyone needs or be The Ghost that everyone fears.
???? BETA ???? This game is in beta. Some features may not work as intended.
UPDATE 5.9.0:
- Added a new map: School
- Added Give up and Self Revive features
- Buffed Devil:
- Reduced charge time to 0.75 seconds
- Bug fixes
*Inspired by Piggy!*
Roblox Ghost Created 6/4/2020, Updated 10/8/2020, Max Players 6, Genre Horror. (Online Multiplayer Game, Ghost, Codes, Halloween Event, New Chapter, Chapter 5)
-- Yesterday Gamelog
- ROBLOX Escape The Carnival of Terror Obby! LOCKED IN ABANDONED CARNIVAL! - https://chloetuberchannel.blogspot.com/2020/10/roblox-escape-carnival-of-terror-obby.html
Let me know in the comment what game you would like to see me play.
I Love you all Chloe Tubers!
Roblox Ghost Gameplay / Chloe Lim October 2020 Gamelog / #Ghost / #HalloweenEvent / #Codes
Click Here to Visit