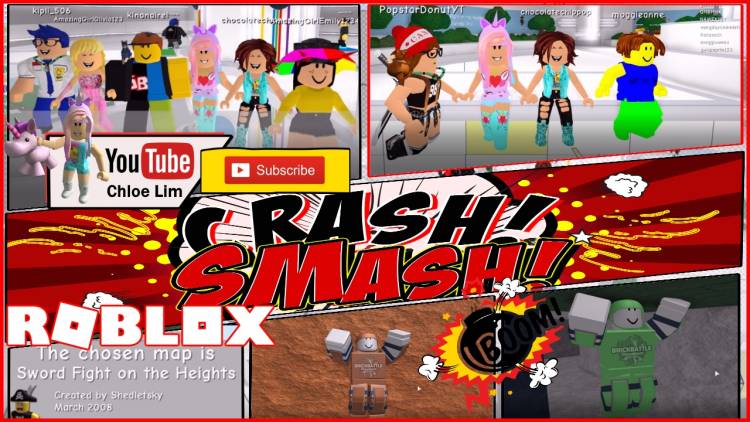 Roblox Brickbattle Showdown Gamelog - August 22 2018
-- Use these time point to skip to the section in the video:
0:07:39 Round 2 Roblox Headquaters!
0:18:16 Round 3 Sword Fight On The Heights!
0:24:24 Round 4 Sword Fight On The Heights!
--
Chloe Roblox Store
(GET IT NOW)
If you liked my video please LIKE, SHARE and SUBSCRIBE ??? !!!
--
Roblox Brickbattle Showdown v1.0.3 by Silver Fin Studios
--
About Brickbattle Showdown v1.0.3
A throwback and remaster of classic Roblox levels! Play on your favorite maps, such as Glass Houses, Crossroads, Doomspires, and more! Battle with classic brickbattle weapons and other tools that you can purchase from the shop.
Roblox Brickbattle Showdown v1.0.3 Created 5/12/2018, Updated 8/21/2018, Max Players 20, Genre Fighting. (Online Multiplayer Game, #BrickbattleShowdown)
--
Yesterday Gamelog
Roblox Pet Simulator Gameplay! Trading Update! Shout out to Kulbid_isbest! Loud Scream Warning!
- https://chloetuberchannel.blogspot.com/2018/08/roblox-pet-simulator-gameplay-trading.html
Let me know in the comment what game you would like to see me play.
I Love you all Chloe Tubers!
Roblox Brickbattle Showdown v1.0.3 Gameplay / KawaiiChloeLim August 2018 Gamelog / #ChloeLim Channel / #BrickbattleShowdown, #Roblox
Click Here to Visit