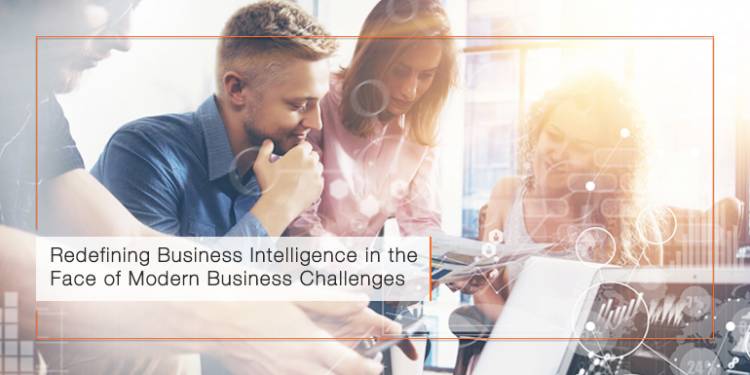 Redefining Business Intelligence in the Face of Modern Business Challenges
The massive increase in data used in business and enterprise functions, such as Customer Care, Finance, Procurement, HR, etc., across industries has driven organizations to leverage solutions form such data. But information comes in different forms—spreadsheets, third party data visualization, data warehousing tools, etc., and this leads to business insights being delayed, inconsistent, or nonexistent.
Why is BI important? What are the potential benefits of it?
BI is important for your organization and must be made top priority.
With BI, you can collect information or data within and outside the organization, helping you to work on loopholes by fixing them. BI enables transparency within the organization clearing out any chances of duplication and improving accuracy between departments. Having a record of useful, relevant information can be beneficial to the company's progress.
For an organization to succeed it is imperative to be aware of the consumer behavioral cycles, market, and buying trends – and with BI it is easy to derive such insights.
BI comes in handy with decision making as well, especially when you come up with new strategies and plans. Making plans and strategies is easy but executing them is a whole new ballgame. With BI all the information is placed before you, allowing you to observe any pitfalls or benefits and make decisions accordingly.
Another great functionality of BI is that it provides you a view of where your competitors stand, and how they got there. Knowing how you fare with respect to your competitors is a key point in your journey to success.
Detection of any significant events that can be beneficial or of importance to your company is another feature of Business Intelligence. Most of these events are pathways to awareness of the business world, so engaging in this is crucial. Furthermore, the business and marketing scenarios are constantly changing and keeping up with it is imperative.
Every business focuses on cost cutting and when you have BI software and tools, you can find ways to cut out extra, unwanted expenditure and focus only on profitable investments.
Read more @ 4 Types of Business Intelligence Users in Every Company
What are the new trends in BI?
Research suggests that analytics and data science will part the way for BI, which will be the new norm. Lately we've seen news trends in BI that are molding the way we see and use data.
BI makes accessing data an easy task. Thanks to this, data can flow in more than one direction—everyone can use and share data. A shift from PPTs and PDFs to live interaction and sharing of data will be witnessed.
Another trend that's likely to occur is that tackling tasks like data parsing, JSON and HTML won't be limited to specialists. It will be open to everyone who wants to do so, with the help of software and tools within BI.
Analytics will slowly get integrated everywhere, and people will find it easier to work with data and information, with the help of the common language that BI comes up with.
Cloud computing is already a popular choice among many, but with BI, there will be an accelerated use of the same. The Cloud is one of the best ways to save and store data, and it will give BI an added edge.
What are some of the BI challenges that organizations are facing today?
In a recent research, it has been concluded that delivering self service reporting and analysis is the biggest challenge that BI is facing. Close to 35.8% of the total respondents said that the tools and software were too complicated and not user friendly.
Since BI deals with data from outside sources, over 27.4% felt that this is another challenge as gathering such extensive information can be difficult and complex.
A lot of data is buried in systems, wherein accessing such data can prove to be a big challenge. BI tools will have to transform this data into a less complex format for easy access.
Another common challenge is cost. The tools and software can cost a lot, but the upside is that cloud BI is now being embraced and is working out to be more cost-effective.
Every organization thrives on data, so a platform that helps you deal with data is definitely a great investment. BI can help transform all this data into actionable intelligence. This way, organizations can execute tasks that were once challenging and come up with solutions that can deal with pitfalls.
The CareCloud
The CareCloud is Netlink's cloud-based Business Intelligence and Analytics platform blended with integration and customization services—delivering all you need to make informed business decisions. The CareCloud is an all-inclusive solution providing software, hardware, connectivity, configuration and ongoing services, and can roll-out with no CAPEX and minimal IT involvement. In comparison with the traditional BI vendors, our platform can go-live in a relatively much shorter time (6 to 9 weeks) and with the much lower total cost of ownership.
Click Here to Visit